Cosmetic Dentistry Somerset, KY
Everyone deserves to have a set of perfect pearly white teeth – children, young adolescents, even seniors. Having great teeth gives one the confidence to face others and talk with them. And here at Brummett and Tallent Cosmetic and Family Dental, we offer comprehensive cosmetic dentistry services to clients in Somerset, Albany, Monticello, and other major cities in the state of Kentucky.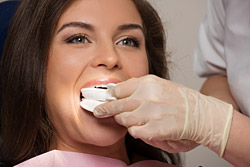 For years now, we have served countless clients from these areas, and all of them have the same wonderful experience after they availed our services. In the hands of our experienced dentists, you can have any dental imperfection corrected at once so you can talk and smile like you've never done before.
Reliable Provider of Cosmetic Dentistry in KY
Cosmetic dentistry aims to correct dental problems, such as missing, misaligned, or damaged teeth caused by an in-born condition, natural ageing, or accidents. We offer services that cover all possible dental concerns, so clients in Somerset and other Kentucky locations need not go elsewhere. Among the value-for-money services that you can avail are:
Crowns and veneers – Two of the most preferred ways to hide dental imperfections are crowns and veneers. Crowns are often used to remedy chipped or cracked teeth, and they are commonly made of porcelain. Meanwhile, veneers are used to cover stains or close gaps between teeth.


Implants – Our dental implants can last for 12-15 years, making them truly worthwhile investments for great-looking teeth. They offer natural appeal and are practically maintenance free unlike other options.


Fillings – We apply the best possible fillings to remedy cavities, and we have expert dentists who can determine the best filling to use. When we're done, you'll surely be amazed at how natural-looking the fillings are.


Teeth whitening and cleaning – Teeth tend to accumulate stain, plaque, and discoloration over the years. To maintain great oral health, it is important to have your teeth cleaned regularly. Fortunately, we offer affordable teeth cleaning and whitening services that will let you flash your pearly whites with full confidence.


Dentures and partials – One of the oldest and most widely used cosmetic dentistry products are dentures and partials. Our resident dentists will determine the best option to use based on their careful analysis of your teeth condition. They use high quality materials in creating partials and dentures, so you are assured of their lasting quality and natural appearance.


Invisalign: Cutting-edge Technology for Perfectly Aligned Teeth
For those who have misaligned teeth due to an accident or as an in-born condition, we offer the cutting-edge Invisalign braces. These braces are the perfect alternatives to metal braces, which can be quite troublesome and uncomfortable to wear for an extended time period. Our Invisalign braces will provide noticeable improvements after each replacement until the point when your teeth are perfectly aligned.
Getting the Right Cosmetic Dentistry Services from the Experts
Our cosmetic dentistry services are considered first-rate. We have trained and licensed dentists who perform reliable procedures and treatment that guarantee commendable outcomes. In fact, most of our clients from Somerset, KY and surrounding areas refer us to their friends and colleagues because of our professionalism and personalized treatment.
We also have complete facilities in our Monticello and Albany clinics, so you're guaranteed to receive your desired services whichever of these clinics you go to. Best of all, we offer flexible payment options, competitive rates, and insurance coverage for the various services rendered.
So get that confident smile you've always wanted. Call us today at 606-340-0740.
We Provide Services to the Following Cities and Towns in KY and TN:
Whitley City, KY
Russell Springs, KY
Burkesville, KY
Byrdstown, TN
Columbia, KY
Bronston, KY
Cookeville, TN