Dentist Monticello, KY
One of the most important things that you should do to keep your teeth healthy is to regularly visit your dentist for a dental checkup. Failure to do so would mean worsening of small dental problems, which could have been easily treated by a single visit to your nearest dental clinic.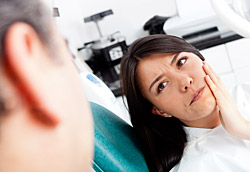 And when it comes to rendering the best dental care and treatment for residents of Monticello, Albany, Somerset, and other Kentucky areas, we at Brummett and Tallent Cosmetic and Family Dental are considered among the best in the field. With combined decades of experience providing cosmetics and family dental services at affordable prices, we have successfully helped countless Kentucky clients wear a bright and confident smile and enjoy great oral health.
Contact us today at 606-340-0740 to get expert oral care and treatment.
Our Offered Services
Our dentist can perform preventive care and treatment of all kinds of oral problems. Some of the dental services we offer in our clinics include:
Dental examinations
Cleaning and whitening
Fluoride treatment
Fillings
Sealants
Extractions
Wisdom teeth removal
Implants
Root canals
Crowns and veneers
Dentures and partials
Why Choose Us?
Every dentist in our clinic is approachable, kind, and professional, so everyone who comes into our clinic is greeted with a welcoming and compassionate atmosphere. Moreover, clients like you will not only get the right care and treatment but also receive customized and personalized services. This is critical since every person has unique dental needs and should thus receive a tailor-fit dental care package to guarantee his or her oral health.
Additionally, all of our dentists are licensed and possess lengthy experience in the field. They have undergone and still attend relevant professional training and seminars to keep themselves abreast of the latest in the field of dentistry. Their knowledge and expertise make them highly capable of performing all dental services in a caring way.
Personalized Dental Care
At Brumett and Tallent Cosmetic and Family Dental, we take pride in our team of dentists who have served countless Monticello residents and even those from neighboring communities in other states. They have been practicing their craft for decades, making them truly competent and aware of the best approach to dental services.
Our dentists treat each client not as a paying customer but as a member of their family, and they show this by carefully listening to clients' needs and then providing a personalized dental care. Our clinic also offers comprehensive services, which means that you and your family won't have to hire other dentists to address your miscellaneous dental concerns.
And when it comes to payment options, we offer flexible terms and competitive rates. We also provide dental care packages that are easy on the pockets yet still address clients' vital oral health concerns.
Visit our Dental Clinic Today
If you're looking for a dentist whom you can trust to provide your needed dental services with sure positive results, then call us today at 606-340-0740. You may also visit our clinic at 1225 North Main Street, Monticello, KY so we can better discuss your dental care needs.
We Provide Services to the Following Cities and Towns in KY and TN:
Whitley City, KY
Russell Springs, KY
Burkesville, KY
Byrdstown, TN
Columbia, KY
Bronston, KY
Cookeville, TN